Ancient Wonders of Egypt
Abu Simbel, Alexandria, Aswan, Cairo, Edfu, Gifton Island, Giza Narcopolis, Hurghada, Kombombo, Luxor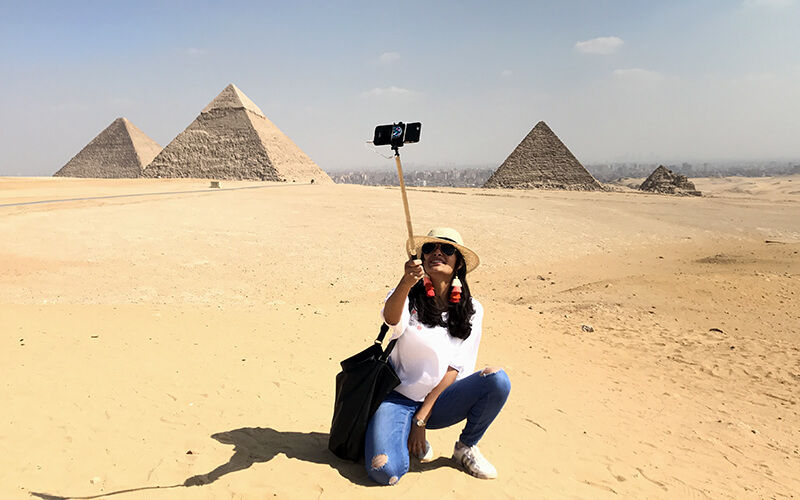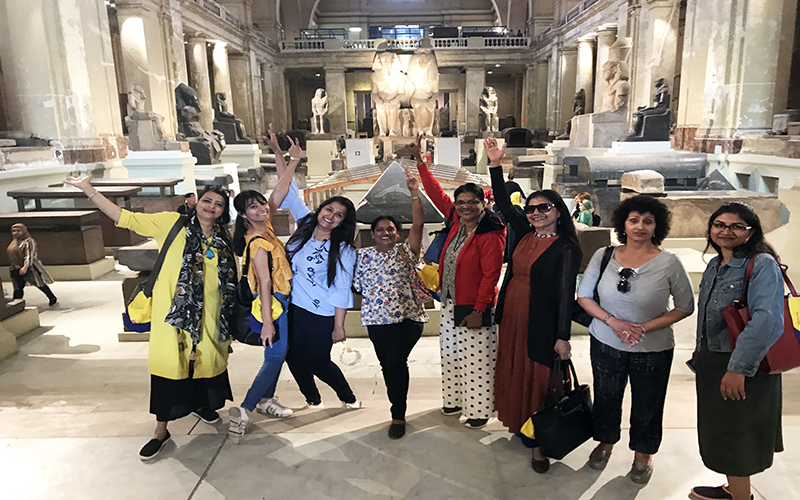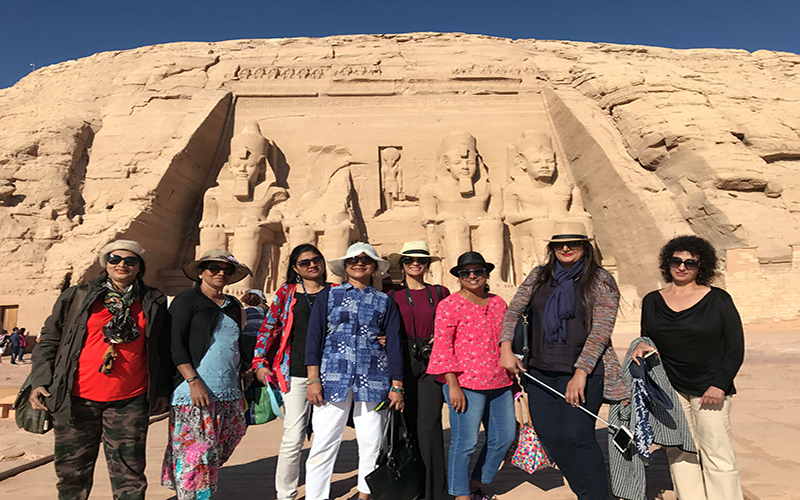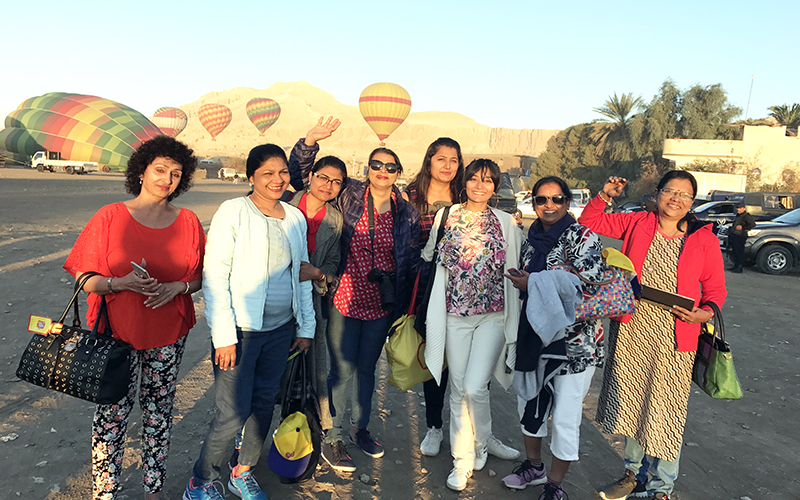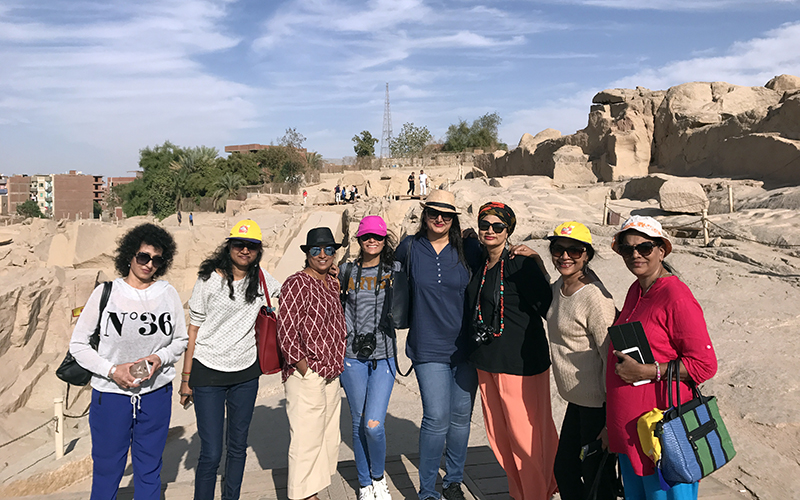 Egypt is a treasure trove of experiences that seamlessly blend culture, history, and relaxation.
Experience the Marvels of Ancient Egypt The colossal monuments of Ancient Egypt are nothing short of awe-inspiring. From the majestic pyramids to the enigmatic Sphinx, every stone tells a story of a glorious past. The Great Pyramids of Giza - A Timeless Wonder Standing proudly on the Giza Plateau, the Great Pyramids of Giza are the must-see jewels of Ancient Egypt. Behold the grandeur of Kings Cheops, Chephren, and Menkaure, and meet the enigmatic guardian, the Sphinx. The Great Pyramid of King Cheops, one of the Seven Wonders of the Ancient World, continues to stand tall after millennia. It's a testament to human ingenuity! Cruise Down the Legendary Nile River Picture this: You, on a luxurious cruise ship, sailing along the world's longest river, the Nile. It's not just a journey; it's a sensory delight. Explore the Luxor-Aswan Route Embark on a cruise adventure along the Luxor-Aswan route, a safe and picturesque passage that unveils the heart of Egypt. Along the way, you'll encounter the timeless wonders of Luxor and Aswan, two cities steeped in history and beauty. Relax and Rejuvenate As you sail, take in the stunning desert landscapes, bask in the warm Egyptian sun, and let the soothing waters of the Nile work their magic. It's the perfect blend of adventure and relaxation, where every moment feels like a dream.
In Egypt, magic, mystery, and pleasure converge to create an unforgettable experience. Whether you're exploring the monumental temples, gazing at the pyramids, or cruising along the Nile, every step you take is a journey through time. Egypt isn't just a destination; it's an enchanting adventure waiting to be explored. 🇪
With Pack n Fly Travellers Club's well researched & carefully crafted itinerary, Egypt offers a unique mix of ancient cruising on emerald waters, or simply unwinding on pristine shores,, making it an exceptional destination. . Pack your bags, join the Pack n Fly Travellers Club, and prepare for the journey of a lifetime!
Highlights
Holiday Categories
Tour Services
Internal Sector Flights, Transfers, 4.5 Star Hotel, 5 Star Hotel, Cruise, PnF Buddy, Travel Insurance, Ferry, Felucca Boat ride
Room Category
Deluxe Room
Meals
9 Breakfast
8 Lunch
6 Dinner
Holiday Destinations
Highlights
Accommodations:
3 Nights stay at 4 star hotels- Barceló Pyramids/ or Similar
3 Nights stay at 5 star Nile Cruise – M/S Royal Princess/ Princess Sarah or Similar
2 Night Stay at 5 star AMC Royal Resort Hotel Hurghada or Similar
Travel:
2 Sector  flight tickets in Egypt (Cairoà-Aswan, Hurghada-Cairo)
Travel Insurance upto age 60 years (Additional insurance cost above 60 yrs will be applicable)
Airport transfers & all Sightseeing by A/C vehicles
Activities :
Dinner at one of the world's best floating restaurant with Belle dance and oriental show/ Sufi Tannora dance with Dinner
Giza, the great three pyramids tour in Cairo
Day excursion to Alexandria
Light and Sound show at pyramids
Cairo Old City Tour
Khan el-Khalili Market
Felucca ride in Aswan Nubian Village
 Egyptian Museum for Antiques in Cairo
Memphis open air Museum
Dinner at 5 star Deluxe Cruise Nile Crystal with Belle Dance on day 1
Abu Simbel Excursion
Excursion to the Valley of the Kings –Luxor temple visits
Historic tour of Cairo
Day excursion to Gifton Island( Optionaal)
Hot Air Balloon Ride (Optional)
Services:
English speaking Egyptologist guide
PnF Buddy
Itinerary
Day 1
27-11-2023: Arrive at City of Pyramids - Cairo
Upon our arrival in Cairo, we'll breeze through immigration formalities and collect our luggage. Following that, we'll be swiftly transported to our hotel for check-in.
After a well-deserved rest and a quick refresh, prepare for an enchanting evening that promises unforgettable memories.
At around 7:00 PM, our adventure continues as we're chauffeured from our hotel to embark on a Nile Cruise. Here, we'll dine amidst the enchanting backdrop of the Nile while being mesmerized by the captivating Tanoura Show and alluring Belly Dancing. This is an evening that will etch itself into your memory. Following the cruise, we'll return to our hotel for a comfortable overnight stay.
Stay
Barcelo Pyramids 4*/Similar
Meals
Dinner
Day 2
28-11-2023 : Day for Giza, Step Pyramids & Memphis Exploration
After indulging in a sumptuous breakfast, we kickstart our day with an adventure to remember.
Our first stop is the iconic Giza Plateau, home to the most impressive landmarks in Egypt. Here, we'll stand in awe of the three Pyramids of Kings Cheops, Chephren, and Mykerinus. These ancient marvels are guarded by the enigmatic rock-cut statue, the Great Sphinx, a majestic creature with the head of a Pharaoh and the body of a lion. It dates back to the time of Chephren and is a sight to behold.
The Great Pyramid of King Cheops, the sole survivor of the Seven Wonders of the Ancient World, stands tall, even though it's 2,000 years older than its peers.
Next, we'll explore the fascinating Valley Temple, which is connected to the Pyramids of Chephren.
Our journey through time continues as we visit the Solar Boat Museum (entry fee applicable), home to a 5,000-year- old boat from the Ramases Dynasty.
We then move on to witness the Step Pyramid of King Zoser, the world's oldest major stone structure, dating back to the 3rd Dynasty (around 2630 BC). It's located in the Sqquara complex and is a true marvel of ancient engineering. Our historical exploration leads us to "Memphis," founded by King Menes and once a capital of ancient Egypt until around 2,200 BC. It was a prominent cult center dedicated to God Ptah, the deity of creation and artworks. Prepare to be captivated by the temples and monuments devoted to him.
Finally, we retreat to our comfortable hotel for a well-deserved rest.
Stay
Hotel Barceló Pyramids or Similar
Meals
Breakfast Lunch
Day 3
29-11-2023: Day Excursion to Alexandria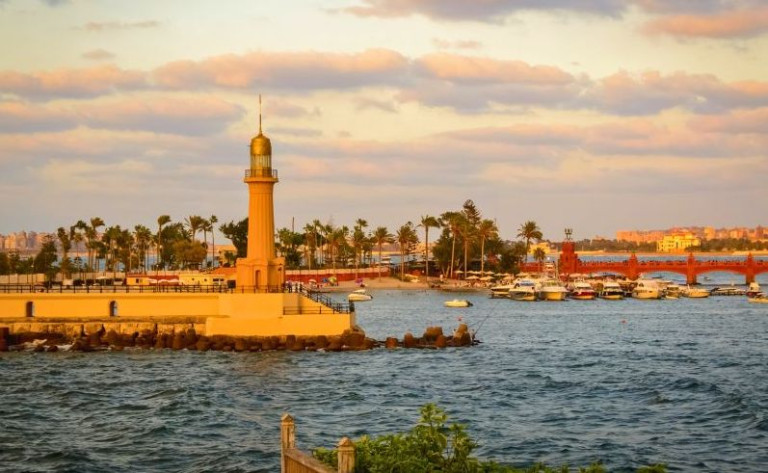 After a satisfying breakfast, it's time for an exciting land trip! We'll embark on a 3-hour journey to the enchanting city of Alexandria.Our adventure in Alexandria begins with visits to some of its most renowned landmarks:
Pompey's Pillar: First on our list is the impressive Pompey's Pillar, a testament to the city's rich history.Catacomb of Kom El-Shoqafa: We'll delve into the depths of history as we explore the Catacomb of Kom El-Shoqafa, a fascinating archaeological site.Library of Alexandria: Prepare to be amazed by the grandeur of the Library of Alexandria, currently the largest library in the world, housing a staggering 8 million books. Site of the Lighthouse: Next, we'll visit the site of the ancient Lighthouse of Alexandria, one of the seven wonders of the ancient world. Here, we now find the impressive Castle of Qaitbey. Corniche Drive: We'll take a scenic drive along the Corniche, offering panoramic views of Alexandria from the seaside. Keep an eye out for the remnants of the old harbor, where 7,000 monuments lie submerged beneath the waters. Stanley Bridge: We'll make a stop at the famous Stanley Bridge, a modern landmark in Alexandria that's sure to catch your eye.Abo El Abbas Mosque: Our journey continues to the magnificent Abo El Abbas Mosque, the city's prettiest and largest mosque. Unknown Soldier of Alexandria and Statue of Alexander the Great: We'll pay our respects at the Unknown Soldier of Alexandria monument and admire the statue of the legendary Alexander the Great.
After an enriching day exploring Alexandria, we'll return to our hotel in Cairo for a comfortable overnight stay, filled with memories of this remarkable city.
Stay
Barcelo Pyramids 4*/Similar
Meals
Breakfast Lunch
Day 4
30-11-2023: Exploring Cairo's Ancient Treasures
Following a satisfying breakfast, our journey through the annals of history continues, promising a day filled with awe- inspiring discoveries. Our first stop is the renowned Egyptian Museum of Antiquities, a true time capsule built-in 1902. Here, we embark on a voyage through time, exploring artifacts from the Pharaonic period. The museum is a treasure trove, showcasing a rare collection of 5,000 years of art, considered the largest and most precious collection of Egyptian art globally. With over 250,000 artifacts on display, prepare to be overwhelmed by the richness of Egypt's history.
We then proceed to visit two magnificent landmarks:
Mohamed Ali Alabaster Mosque: A splendid mosque with a commanding presence in Cairo, its alabaster beauty will leave you in awe.
Citadel of Salah El Din: This ancient fortress, built to protect the city against invaders, offers breathtaking views of Cairo and its rich history.Our journey through Cairo takes us to Old Cairo, where history and faith intertwine:
The Hanging Church: A testament to Egypt's Coptic Christian heritage, its architecture and spiritual significance are truly remarkable.
Abu Sirga Church: Another sacred site, this church adds to the spiritual tapestry of Old Cairo.
Synagogue: Our exploration takes us to a place of historical and religious importance.We'll then visit Khan EL Khalili and El Hussein Area, immersing ourselves in the vibrant atmosphere of these bustling markets, where centuries of tradition meet modern commerce.
As the day turns into night, we'll attend the captivating Sound and Light Show, a mesmerizing experience that brings Egypt's history to life against the backdrop of the illuminated pyramids. After a day filled with exploration and cultural immersion, we'll return to our hotel in Cairo for a well-deserved r .
Stay
Barcelo Pyramids 4*/Similar
Meals
Breakfast Lunch Dinner
Day 5
01-12-2023: Aswan Sightseeing / Nubian Village / Nile Cruise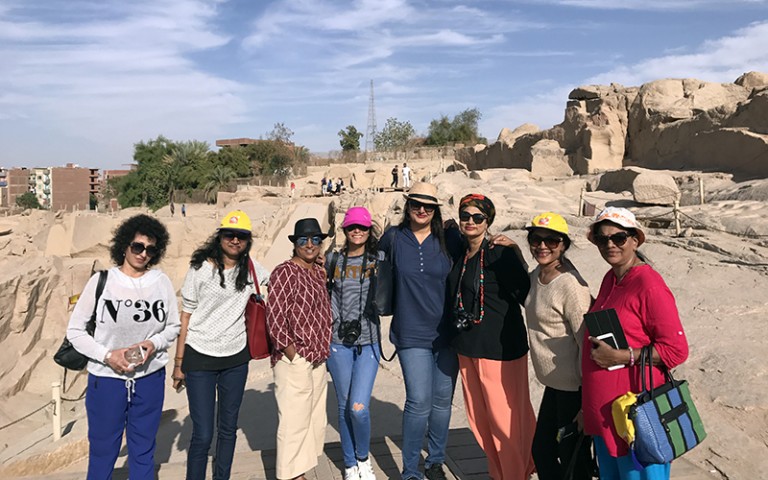 After an early morning check-out from our hotel, it's time to embark on the next leg of our journey. We'll be transferred to Cairo domestic airport for our flight to Aswan.
Our exploration of Aswan begins today:
Aswan High Dam: Our first stop is the mighty Aswan High Dam, an engineering marvel that controls the flow of the Nile River and has played a pivotal role in Egypt's history.
The Unfinished Obelisk: We'll marvel at the colossal Unfinished Obelisk, a testament to the incredible craftsmanship of ancient Egypt.
Temple of Philae: Our next destination is the picturesque Temple of Philae, dedicated to the goddesses Isis and Hathor. Its construction began during the reign of Ptolemy II and was completed by the Roman emperors. With our hearts filled with the beauty of Aswan, we'll then embark on a remarkable journey aboard a 5* Nile Cruise.
Upon check-in, we'll refresh ourselves and savour a lavish lunch on the cruise. Afterward, we'll enjoy a delightful tea session on the cruise deck before setting off on a memorable Felucca ride to a traditional Nubian Village. These villages nestle at the base of Elephantine Island, and this excursion offers a glimpse into the simple, tranquil, and natural life of the Nubian people. The Nubian culture is steeped in history, and their warm hospitality welcomes all visitors. We'll even have the chance to visit a local Nubian family's home during our tour.As the sun sets, we'll return to our comfortable cruise for a peaceful overnight stay, surrounded by the serene beauty of the Nile.
Stay
Royal princess 5* Nile Cruise/Similar
Meals
Breakfast Lunch Dinner
Day 6
02-12-2023 : Abu Simbel & Kom Ombo Adventure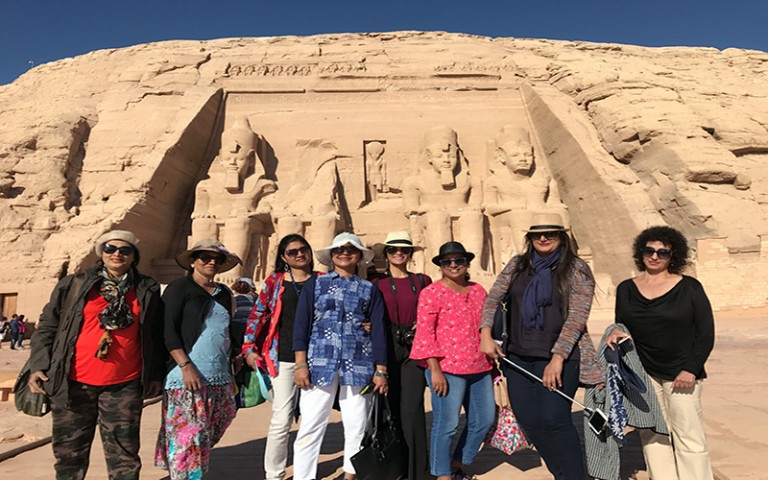 Rise and shine! Today, we're in for an early start, with our day kicking off at 4:00 AM as we embark on a remarkable historical journey.We'll hop on an air-conditioned coach for a scenic 3.5-hour drive to the awe-inspiring Abu Simbel. If you need a little more rest, feel free to catch a few more winks on the way – we want you to be fully energized for this remarkable experience.
Our first stop takes us to the colossal Temple of Abu Simbel, a testament to the grandeur of Ramses II from the XIXth Dynasty. These temples were meticulously carved out of a sandstone rock cliff and feature intricate representations of the deities they were dedicated to, carved into their huge façade. Nearby, we'll also discover the small but equally captivating Temple of the King's wife, Nefertari, devoted to the goddess Hathor.
After our awe-inspiring visit to Abu Simbel, we'll make our way back to Aswan.
In the afternoon, we'll return to our cruise, where you can enjoy a leisurely lunch as we set sail towards Kom Ombo. Arriving in the area, we'll explore the unique Kom Ombo Temple, a fascinating double temple dedicated to the Falcon God "Haroeris" in the southern part and the crocodile God "Sobek" in the northern part. This architectural wonder dates back to the Ptolemaic era and holds many mysteries. Of particular interest is the scene on the inner face of the rear wall, thought to depict a set of surgical instruments.
As the day winds down, we'll head back to our cruise, continuing our journey, this time towards Edfu. Here, we'll enjoy a delectable dinner on board and spend the night surrounded by the serene ambiance of the Nile.
Stay
Royal princess 5* Nile Cruise/Similar
Meals
Breakfast Lunch Dinner
Day 7
03-12-2023: Edfu Exploration & Sailing to Luxor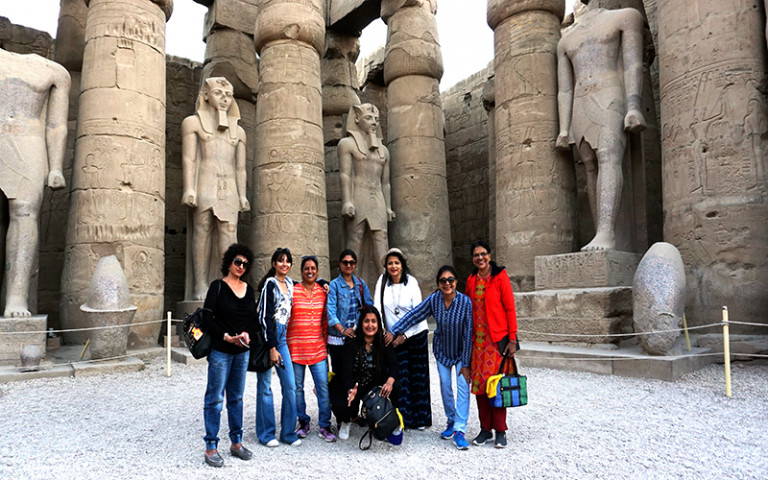 Good morning! Today is set to be a day of awe-inspiring temple visits and serene sailing on the Nile.
In the morning, we'll set off to explore the Temple of Edfu, a true gem of Egypt and one of the most complete and well-preserved temples in the country. Flanked by magnificent granite statues of the falcon god Horus, this Ptolemaic temple is dedicated to the deity "Horus." The temple's walls, columns, and doorways are adorned with intricate reliefs that provide invaluable insights into ancient Egyptian religious and political beliefs.
After our enlightening visit to Edfu Temple, we'll return to our cruise for a delicious lunch as we continue our journey towards Luxor. En route to Luxor, be prepared to witness the mesmerizing operation of the ESNA water Lock, a breathtaking feat of engineering.
As we reach Luxor, we'll be picked up to explore two massive temples on the eastern bank of the Nile:
Luxor Temple: Our first stop is Luxor Temple, believed to have hosted ancient Egyptian festivals. The temple's walls bear witness to scenes depicting these celebrations. Inside the temple, we'll find the Abu Al-Haggag Mosque, built on the ruins of an ancient church.
Karnak Temple Complex: Our journey continues with a visit to the Karnak Temple Complex, an extraordinary site comprising a vast array of decayed temples, chapels, pylons, and other structures. Its history dates back to the Middle Kingdom, and it continued to evolve through the Ptolemaic Period. Karnak is a vast open-air museum and the second-largest ancient religious site globally.After a day of exploration, we'll return to our cruise for a delightful dinner. Get ready for an evening of cultural immersion with a folkloric Tannoura and Belly Dance show. We'll spend the night on board in Luxor, surrounded by the enchanting allure of the Nile.
Stay
Royal princess 5* Nile Cruise/Similar
Meals
Breakfast Lunch Dinner
Day 8
04-02-2023: Luxor's Treasures - Felucca Ride– Transfers to Hurghada
Good morning! Get ready for a day filled with exploration, adventure, and a change of scenery.
For those early risers seeking an unforgettable experience, you have the option to enjoy a Hot Air Balloon ride at an additional cost of $145-150. Soar above the breathtaking landscapes of Luxor and witness the ancient wonders from a unique vantage point.
After a hearty breakfast, it's time to bid farewell to our cruise as we disembark. Our journey through the treasures of Luxor continues, this time on both the west and east banks of the Nile.
We'll start with the west bank, where we'll explore the incredible archaeological sites of ancient Egypt:
Valley of the Kings: Our first stop takes us to the Valley of the Kings, a place where the well-preserved tombs of New Kingdom kings, including the legendary Ramses II and the child King Tutankhamun, can be found. This is a journey into the heart of royal history.
Mortuary Temple of Queen Hatshepsut: Next, we'll visit the Mortuary Temple of Queen Hatshepsut, often referred to as "the Holy of Holies." This magnificent temple is a three-tiered structure connected by ramps, with its walls adorned with depictions of the divine birth of the Queen and her ambitious commercial expedition to the mysterious land of Punt.After our explorations on the west bank, we will enjoy Felucca boat ride as our last tribute to Nile River. Now we'll head to Hurghada in a comfortable air-conditioned coach, with an approximate travel time of 3.5 hours. Upon arrival in Hurghada, we'll transfer to our hotel, check in, and get ready to unwind and relax. You'll have the evening to enjoy the beautiful surroundings and amenities of your Hurghada hotel.
Stay
AMC Royal Hurghada 5* or Similar
Meals
Breakfast Lunch Dinner
Day 9
05-12-2023: Leisure Hurghada or optional Giftun Island Excursion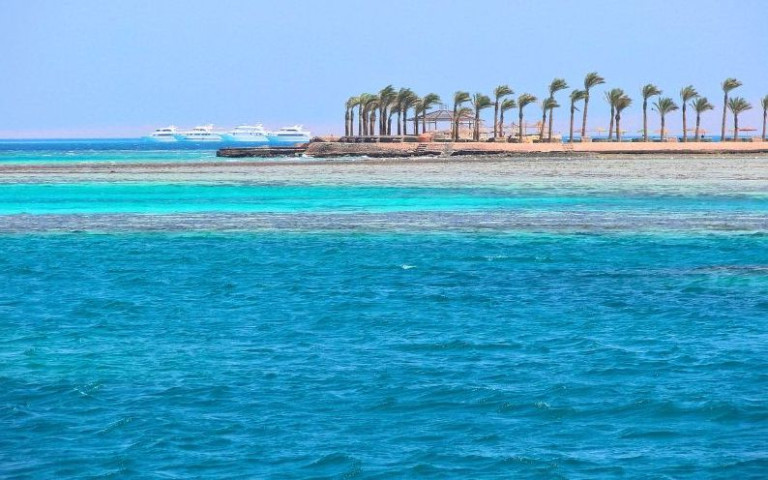 Today is all about freedom and choice! You have the day to explore the beautiful beach city of Hurghada at your own pace and according to your interests. Whether you want to soak up the sun on the sandy shores, take a leisurely stroll along the beach, or indulge in some water sports, the day is yours to enjoy.
However, for those seeking a bit of adventure and natural beauty, we have an optional treat: a day visit to the serene Giftun Island at an additional cost of $65. This excursion includes lunch on a boat and the opportunity for some fantastic snorkeling at the paradisiacal beaches of Giftun Island.
The island is known for its crystal-clear waters, vibrant coral reefs, and a diverse array of marine life. It's a snorkeler's paradise, and you'll have the chance to explore the underwater world teeming with colorful fish and coral formations. Whether you choose to relax in Hurghada or embark on the Giftun Island adventure, your day promises to be filled with beauty and relaxation. In the evening, we'll return to our hotel in Hurghada for a comfortable overnight stay.
.
Stay
AMC Royal Hurghada 5* or Similar
Meals
Breakfast
Day 10
06-12-2023: Day for Homeward Journey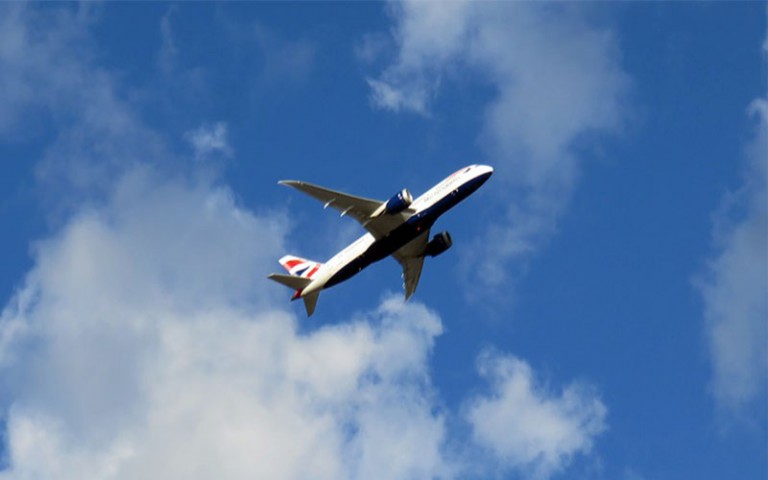 It's the day of departure, but fear not, for Egypt has filled our hearts and memories with wonder. After a fulfilling breakfast, we'll check out from our hotel in Hurghada and embark on the journey back to Cairo.
We'll transfer to Hurghada Airport to catch our flight to Cairo. Upon reaching Cairo, we'll connect to our final departure flight, marking the end of our incredible adventure in Egypt.
As we bid farewell to this enchanting land, we carry with us a suitcase full of cherished memories and a bunch of new friends who shared in this remarkable journey.
Egypt will forever hold a special place in our hearts, and we leave with a sense of awe and gratitude for the experiences and beauty it has bestowed upon us.
We hope you've had a fantastic adventure with Pack n Fly, filled with unforgettable memories and experiences. As your plane takes off, carry the spirit of exploration and the beauty of Egypt in your heart. Safe travels, and until we meet again on your next adventure!
Inclusions
4 N Cairo-Barceló Pyramids, Mercure  or Similar
3 N  Nile Cruise-accommodation at 5* M/S Royal Princess or Princess Sarah or Similar
2 N Hurghada- accommodation in 5* AMC Royal Resort/Similar
2 Domestic flight tickets in Egypt(Cairo-Aswan, Hurghda-Cairo)
Overseas medical insurance
8 Breakfast
8 Lunches
6 Dinners
All sightseeing and airport transfers by private A/C vehicle
English Speaking Egyptologist guide
Nile dinner cruise with belly dance and Oriental Show
Main entrance Fees
One day excursion tour of Gifton Island (Optional)
Exclusions
5% TCS
International Airfare
RTPCR test if required
Hot Air Balloon ride $125
Extra Entry tickets to inside Great pyramid
Extra Entry tickets to the Solar Boat Museum at the Giza Plateau
Extra Entry tickets to the Mummies room in the Egyptian Museum
Entry inside the Third Pyramid
Entry to the tomb of Tut Ankh Amon
Any other Meals or Beverages that not mentioned in the itinerary above
Tipping $10 per day  (Total $90 dollars)
Any extra charges due to natural Calamities,
Anything not mentioned above
Tour Policy
To avail an Early Dird discount you need to pay full amount or else you can book trip at our  reglar price while making initial advance amount of : Rs. 50,000/- to reserve your seat through various payment options available at our website.
Terms & Conditions:
 Trip prices are strictly applicable for Indian citizens only.
You need to follow the required Covid-19 precautionary protocols of the visiting country.
Rates are applicable on 2 persons staying together sharing the same room.
Pack n Fly Travellers Club LLP would not be responsible, in any circumstances, for any damages loss, etc. that may be incurred/suffered by you if the information provided by you in the Tour Registration Form turns out to be incorrect/ inaccurate.
We hold the right to alter the tour schedule in case of bad weather & other conditions beyond our control that might affect the normal itinerary.
All person joining the trip is to follow the given time schedule. Company reserves the right to leave the person behind for disturbing the trip schedule due to their late reporting time. In such case you are suppose to join the group later at your own cost.
During Pack n Fly trip, you understand and agree to follow all applied smoking regulations in public places either in India or abroad. All transportation provided exclusively for Pack n Fly are non-smoking in any part of the globe.
During Pack n Fly trip, you understand and agree to follow all rules & regulations specified by the company. If you are found indulging in unnecessary & unrequired activities due to which entire group schedule & decorum is getting disturbed. Company reserves the right to deport you without any prior notice at your own cost.
The meals at hotel are mix of Veg & Non-Veg dishes. In case of pure veg meals (No onion/no garlic) advance intimation is a must.
Meals at the hotel or other services not utilized during the tour shall be not liable for any kind of refund from the tour price.
Pack n Fly Travellers Club LLP further reserves the right to change the itinerary and hotel, if necessary, in similar category as specified at the time of booking of Tour.
Pack n Fly Travellers Club LLP reserves the right to cancel any tour prior to the departure, without assigning any reason. In such situation the tour will be rescheduled on a different date and we will confirm your bookings for the same Incase the alternate tour date is not acceptable to you, we will refund the entire amount due and payable to you, and however, you will not be entitled to claim any compensation. Pack n Fly Travellers Club LLP cannot take responsibility for any cost relating to the issuance and/or cancellation of air tickets and/or other arrangements not done through Pack n Fly Travellers Club LLP.
In case of any deviation/ cancellation in the itinerary due to natural calamities or reasons beyond our control or any unforeseen surprises, cancellation charges as per the cancellation policies below will be applicable
In case, the trip is cancelled, Pack n Fly Travellers Club LLP will not be responsible for cost of tickets and travel arrangements done for the trip.
Cancellation Policy is applicable on land package only.
Cancellation and /or amendment of airline tickets shall at all times be subject to fees/charges/levies/payments as may be levied / payable to the relevant airline/carrier in accordance with such relevant airline/carrier cancellation/refund policy.
In case during the trip any group member faces medical problem, proper first aid will be provided at the earliest.
Pack n Fly Travellers Club LLP would not be held responsible for occurrence of any of the following circumstances during or before the commencement of the Tour and any extra costs occurring due to these are to be borne by you:
a) Any act of God, like heat wave, heavy rain, floods, land slide, earthquakes, extreme bad weather etc.
1. b) Any delay or cancellation of trains, flights, ferry, bus etc.
c) Medical problem, sickness, physical inability to manage with the itinerary or any other such matter.
Such an inability shall not affect/ delay the rest of the group on the Tour
1.d) Lost luggage, loss of personal belongings and/ or theft etc.
Cancellation Policies:
Cancellation policy is applicable on per person basis
Participant will have to intimate in writing to Pack n Fly Travellers Club regarding cancellation.
Cancellation policy will apply from the date of receipt of written information from tour participant and she will have to make below mentioned payments accordingly.
If you fail to join the tour on the day of departure, join it after departure, or leave it prior to its completion, no refund can be made.
In case of cancellation of tour/travel services irrespective of any circumstances, we must be informed in writing. Cancellation charges would be effective from the date we receive the cancellation request in writing. Applicable cancellation charges would be deducted from the undiscounted full cost of trip, which are as follows: Prior to 46 days from tour departure date or more: 0% 45 – 36 Days from tour departure date : 25% 35 – 26 Days from tour departure date: 50% 25 – 16 Days from tour departure date: 75% 00 – 15 Days from tour departure date: 100% *Change of name or date is not permitted under any circumstances. Any claim cannot be made for any loss occurred due to cancellation.
*For any flight tickets booked by us additionally with the trip being cancelled, the cancellation policy of the airline will apply.
Our Responsibility  & Liability Waiver :
All the Tour Packages mentioned in our 2016-17 Tour Package Brochure / which are mentioned above are sold under the business management of Pack n Fly Travellers Club LLP and they are in no way to be considered as the principal of the subject services. We reserve the right to make any changes in the itinerary as per the prevailing conditions. Neither Pack n Fly Travellers Club LLP, India – Egypt / New Delhi nor any of its participating suppliers like hotels /transporters /guide etc will be responsible for any additional expenses due to bad weather, flight cancellation, road blocks, illness, accident, strikes etc. We should not be held responsible for any unforeseen conditions or situations beyond our control.
Would you like us to email you the itinerary ?

Chat with us