They say misery loves company. If you're trying to get over the demise of a promising relationship or simply feeling down on love, why not simply take a trip to Ladakh?
Ladakh is one of the most sparsely populated regions of Jammu and Kashmir, and it's culture and history are closely related to that of Tibet. Since the land abounds in physical features, you're sure to have some fun there. Be it for a mountain lover, bikers or a nomad or even somebody looking for a spiritual space, or somebody who is looking for solace, Ladakh is an quintessential abode for all.
It's landscape is so beautiful, so serene, that it almost seems unreal and the locals there will touch your hearts in ways nobody else did. So, why not travel to Ladakh after all? Here are another 5 reasons that will make you want to book a trip RN!
1. Refreshing Treks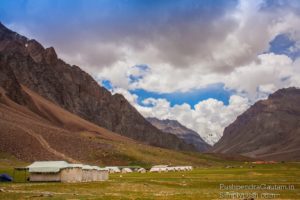 Ladakh is a paradise for amateur climbers and mountaineers. People from every nook and corner of the globe visit Ladakh to instill the element of thrill and adventure to their trip. There are numerous base camps at the foot of Nubra valley and the Ladakh range. Imagine lingering there with your awesome woman companions and simply chilling. Awesome,isn't it?
2. Food-ing
It's no news that there is no sincerer love than the love for food, and both making it and eating it can distress most people. Out there in the mass of indigenous Indo-Tibetan sphere, you will just relish each bite of momos and slurp of thukkpa. What's even better would be to visit a local family and learn how to cook their Ladakhi cuisine. Travel indeed is a great teacher.
3. Scenic Photographs
Eager to show your ex how you're moving on in life?  Ladakh's  mountainscapes, desserts capes, and riverscapes will get you perfect snapshots. You can even limber up your photography skills. Not to miss moments are the heavenly horizons, unplugged landscapes, wildlife, culture and sparkling blue lakes. Also, the place is a fantastic destination for super cool #GirlGang Photographs.
4. Get In Touch With Spirituality
And aim to find strength in some of the most ancient Buddhist monasteries and gompas that chronicle the birth of Buddhism in India. The vibrant festivals, indigenous attire, and strange (not so much) rituals are some other things that you are going to witness. Further, the artistic décor, ancient manuscripts and antiques like statues, thangkas, and murals are simply going to take you back to the pre-historic era.
5. Live Like A Nomad
Well, you were born to travel to a place unknown. So, why not experience calm in the chaos by overlooking the sparkling blue Pangong lake. Bonfire with your co-travellers turned friends, and for once, your reality will be beautiful than your dreams. Life outside technology, civilization, and infrastructure & replaced with the wide open spaces of nature. Isn't that what we wished for?
Do you want to join a #GirlGang in their trip to Ladakh? We at PacknFly can help you. Check out our Mesmerizing Ladakh tour itinerary here or you can also get in touch with us.