PacknFly was formulated and conceptualized to give all you beautiful ladies a platform to come together and discover a variety of exotic destinations within or outside India. With our exclusive 'women only' travel packages, we let our beauties leave all their worries and daily duties behind only to pack all the excitement and fly good times.
You could be a single woman seeking out an adventure, or a professional looking at taking a break from your mundane office duties or a cool college girl hunting for that perfect all girls' trip, or the sincere homemaker wanting to just put her feet up and see new places away from the chaos at home.
If you have the impulse, then we are here to give you the perfect gateway to your next vacation!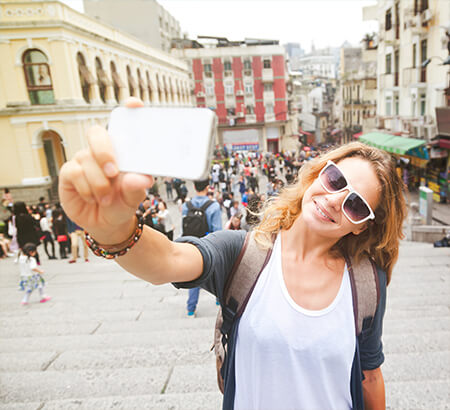 Because as women, we always have an extra appetite to go that extra mile, to explore our limits, and to experience new things.
We women have an unabashed curiosity, an exceptional sense of discovery, and the ability to create non-competitive support systems and an environment of encouragement for each other.
Surrounded by people who find it easy to correlate and understand each other, women feel free to challenge themselves with a trek to a mountain, explore new things like scuba or sky diving, or immerse themselves into an unfamiliar culture.
On an all-women's trip, women tell us that they can be totally and unequivocally themselves.
Millions of women just like you are witnessing the exquisiteness of solo travel, contemplating why they never tried it before. Our customized women only tours promise female friendly stays focused on safety and security.
And while you may come to the group as a complete stranger, with PacknFly you are never alone. We provide you with an opportunity to meet people who are just like you.
On your dream vacay, learn a new hobby, share a few recipes or just go crazy shopping with your fellow travellers at new places without worrying about what the world may think!
Card payments and online banking payments are processed through an online payment gateway system. An online convenience charges are applied for payments processed through payment gateway. In case of cancellation, this fee is non-refundable. Bank charges, if any, for remittance (by remitting bank or by intermediary bank) would be strictly borne by payer.
In case payment is not made as per the schedule mentioned above, Pack n Fly Travellers Club LLP holds the right to cancel your seat on trip and deduct applicable cancellation charges RS 5000/- (Rupees Five Thousand) as cancellation charges plus cost on actual, if any, would be charged. Any claim cannot be made for any loss occurring due to cancellation.
On payment of the balance amount in full you will receive your confirmation with final itinerary. This confirmation will be valid for your travel on the tour. Your Final documents will be issued, upon receiving your balance payment and the Registration Form. It may be noted that the aforesaid payment does not include the cost of porter age, tips, insurance, laundry, phone calls, food and beverages or anything not specified in the itinerary of the tour. Your final Pack n Fly Travellers Club confirmation entitles you to travel on the Tour.Once duly signed Registration Form is received by us, should you wish to change your option from one Pack n Fly tour to another, we will do our best to meet your wishes. Any such change of Pack n Fly Travellers Club Tour would be construed as cancellation of the former Pack n Fly Travellers Club Tour and the aforesaid cancellation policy will apply.
Pack n Fly Travellers Club has a policy of applying for group visas. Due to any reason, whatsoever, if the visa is not granted by the respective Consular Office/ Embassy of the country or delayed in issuing the visa, in case of international pack n Fly Tour , Pack n Fly Travellers club would not be held responsible for such a failure of obtaining visa and further visa fees, cost of cancellation of air ticket, Insurance or any loss incurred, shall be deducted and only balance payment will be refunded.
Cancellation Policy
In case of cancellation of tour/travel services irrespective of any circumstances, we must be informed in writing. Cancellation charges would be effective from the date we receive the cancellation request in writing.
Applicable cancellation charges would be deducted from the undiscounted full cost of trip.
Prior to 46 days from tour departure date or more: 0%
45 - 36 Days from tour departure date : 25%
35 - 26 Days from tour departure date: 50%
25 - 16 Days from tour departure date: 75%
00 - 15 Days from tour departure date: 100%
Change of name or date is not permitted under any circumstances. Any claim cannot be made for any loss occurred due to cancellation.
For any flight tickets booked by us additionally with the trip being cancelled, the cancellation policy of the airline will apply.
Refund Policy
Refund of unused/ unutilized services in total (which are paid for and cancelled in advance), the refund amount would be worked out on the basis of cancellation policy as described above and the money would be accordingly refunded to the person who has made the payment to us.
The refund process may take 30 days due to banking procedures involved. If the refund is made to the credit card account or to the Bank account, the applicable bank charges if any would be debited from the refund amount.