Ladakh, also known as the cold desert of Kashmir, is a paradise in its own way. With magnificent humbling landscape and other visual marvels which makes one wonder if they are actually on the moon, Ladakh is a place to visit at least once in your lifetime. It's beautiful trekking trails and majestic mountains invite an intrepid traveler to explore the barren beauty that lays scattered in and around. Even if you aren't into trekking, it isn't a problem because there is a lot more to do. There are a number of bazaars and street markets to visit on your way to a cute little café or a fancy restaurant. Another activity to undertake is the Leh-Ladakh jeep safari. You can experience being in the wilderness or you can go mountaineering, white water rafting and try out other adventure sports as well. Sightseeing is one activity you will end up doing one way or another, so why not get it right?
Besides breathtaking landscapes, Ladakh is also blessed with a number of stunning lakes. The lakes of Ladakh are called Tso. Each lake provides the traveler with an unforgettable experience. These lakes look extremely calm and composed with still blue water against the backdrop of awe-inspiring mountains, thus making the visitors overwhelmed with similar emotions.
Pangong Tso
The most famous lake of Ladakh is about 160 km from Leh. Pangong in Tibetan stands for "long, narrow, enchanted "and true to its name, it has a magical and mesmerizing effect on the viewer. Pangong Tso is the highest salt water lake in the world located at an altitude of about 14000 feet above the sea level. Only one-third of the lake is in India and the rest is in Tibet which is under Chinese control. It changes colour from deep blue to emerald green akin to the different moods of a human being. The best time to visit is in summers (May to July) as the water freezes during winters due to the extremely cold conditions. Winter sports like skiing are held on the frozen lake attracting skiing enthusiasts from all over the world.
Tso Moriri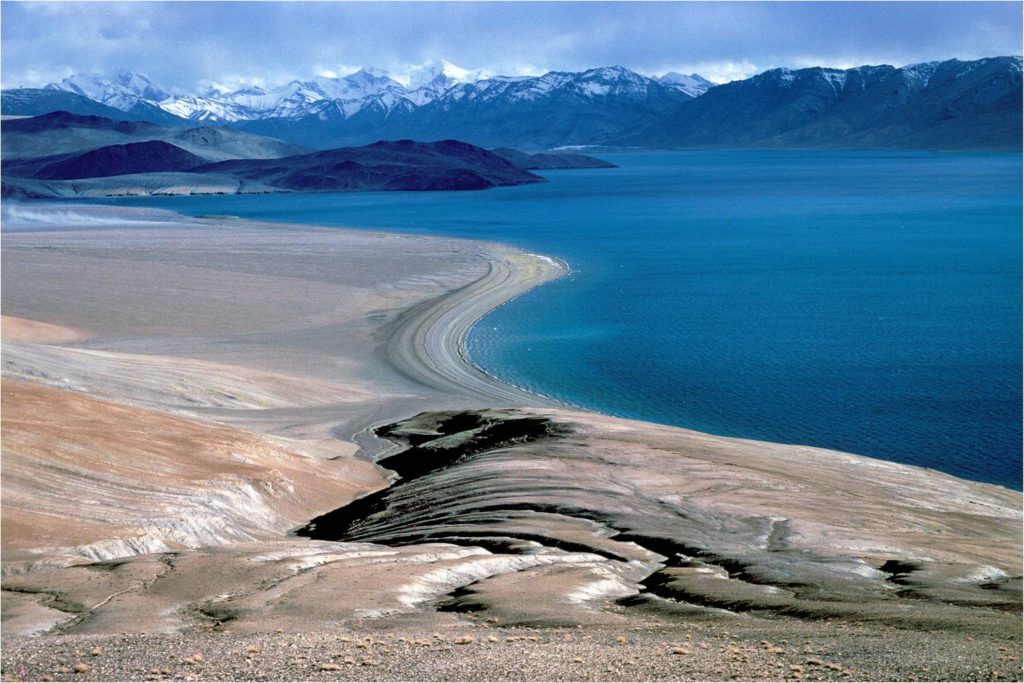 Tso Moriri or Lake Moriri or "Mountain Lake", is a lake in the Ladakh part of the Changthang Plateau. The lake and surrounding area are protected as the Tso Moriri Wetland Conservation Reserve. Bird watching is a popular activity here as the lake attracts many bird species.Tso Moriri is truly spectacular.
Mirpal Tso
Mirpal Tso is near Chusul and is completely isolated. The bed of lake is sandy and the south end has fresh water. It is another beautiful lake.
Tso Kar
The Tso Kar or Tsho kar, known for its changing size and depth, is a fluctuating salt lake situated in the Rupshu Plateau and valley in the southern part of Ladakh. Tso Kar is kind of like a twin lake where the eastern part of the lake is a fresh water lake whereas the western part is salt water. The two parts are connected by a small stream.
To know more about Leh-Ladakh, click here.
There are many other smaller and lesser known lakes like Stat Tso and Lang Tso, Kiagar Tso and Chagar Tso which are also worth visiting if time permits. The serenity and beauty of these Ladakh blues are sure to dwell on the mind of the traveler for a long time after the trip is over and some keep going back for more!
We are also giving away special Mother's Day discount of 10% on your second booking if you book tickets for a mother-daughter duo.⁠⁠⁠⁠ To book your tickets to Leh-Ladakh now, click here.