I thought that with job and family it becomes inevitably difficult to reserve time for our passion, interests and friendship. I even thought that after a period of a women's life the theory of 'ME' time just evaporates away. By 'ME time' I mean a time when I could be ME, have my friends around, where I can chill and free myself from the shackles of responsibility. To me, my college was the last and only sacred time when I enjoyed with my girlfriends. Those chit-chat sessions, shopping, teasing, dancing….I missed all of it from my life….. until Pack 'n' Fly's Facebook page bumped on my screen.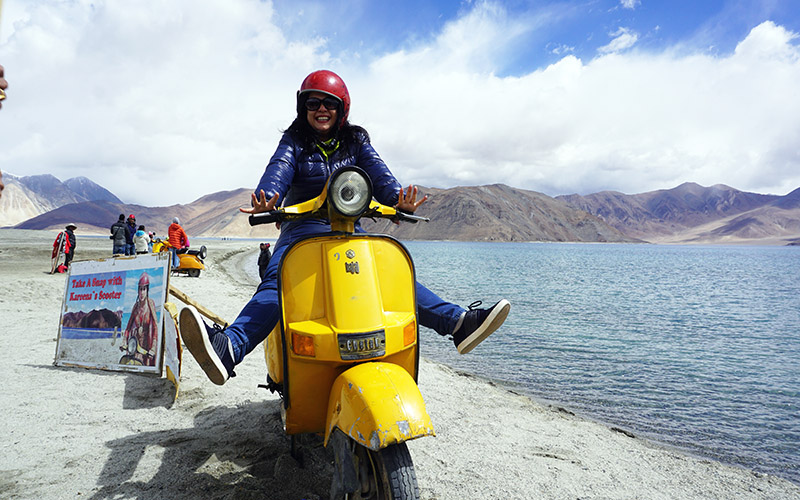 In a true way, that sight on my screen gave me a ray of hope that I could live again the days of my life. That gave me an inkling that I should book my tickets. Hence, I, Ritu Singh, booked my tickets to Ladakh with Pack 'n' Fly. Since ages Ladakh was one long-awaited place on my bucket list  and the best thing about Ladakh is that the thought of it mesmerizes even before reaching there.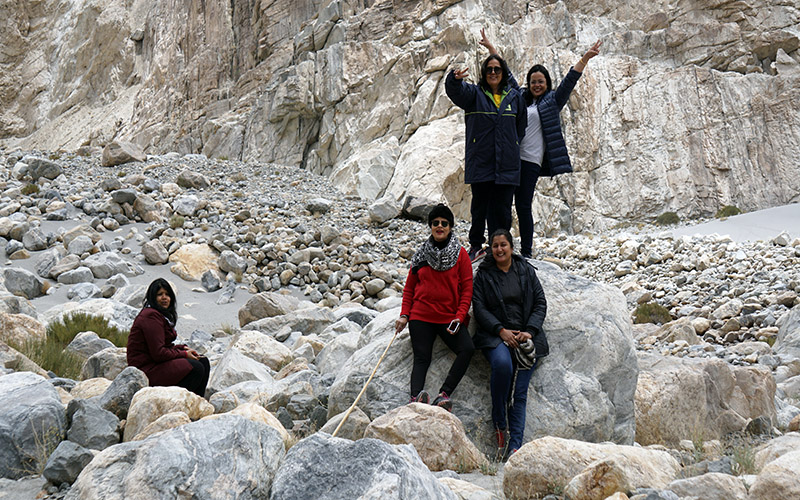 April first week,  I went to Ladakh with Pack 'n' Fly. I must say that even the road leading to Ladakh has its own appeal. That quiet, snow-laden heaven bought a twinkle in my eyes, those magnificent mountains greeted me silently – that was a welcome I can never forget. We arrived at Leh first where we were welcomed by a beautiful white silky stoles called as 'Khatak ' and later with  chai & cookies. By the way, Leh is one of those places that gives you a feeling of leaving your existing life and settling down there forever. Though it has a good infrastructure, it has a local affluence that can be easily seen in the Leh bazaar selling beautiful traditional dresses and earrings. And as an avid shopper, I bought few silver earrings for my sister.
On the second day of our trip, I and my fellow girl travellers headed to sightseeing to Shey Palace, Sindhu Ghat and monasteries. I realised what made our trip so much fun was the blend it was offering in terms of adventure, cultural visits and food. Thanks to Pack 'n' Fly who were taking care of our gastric indulgences equally. So after visiting these sites, we had a yummy lunch at Zingkham restaurant located close to Alchi Monastery – This monastery was built in 11th Century. After our sumptuous lunch  we headed towards Sangam a river which is the confluence of river Indus and Zanskar. Before leaving for prescheduled dinner with Ladakhi family, in their own traditional Ladakhi house at Stok village,once again, the avid shopper aroused and I shopped in the evening.
As promised, we covered all the places mentioned in the itinerary with no hassles.  Nubra valley, Kahrdong La Pass, ride on double humped  camels at Hunder sand dunes, at Turtuk village we met met with their king & we also Northern most Indian Village  'THANG' which was just 2.2 Km away from Pakistan occupied Gilgit Balistan ,Pangong Lake……everything. Also, it would be totally impartial on my part to not to pen down my feelings for the beauty of Pangong Lake that we had visited. For me, that lake did not become special because a lot of movies had been shot there or because its the world's highest saltwater lake…..it became special to me because it surpassed my expectations of beauty. It gave me goosebumps not on the skin but in eyes.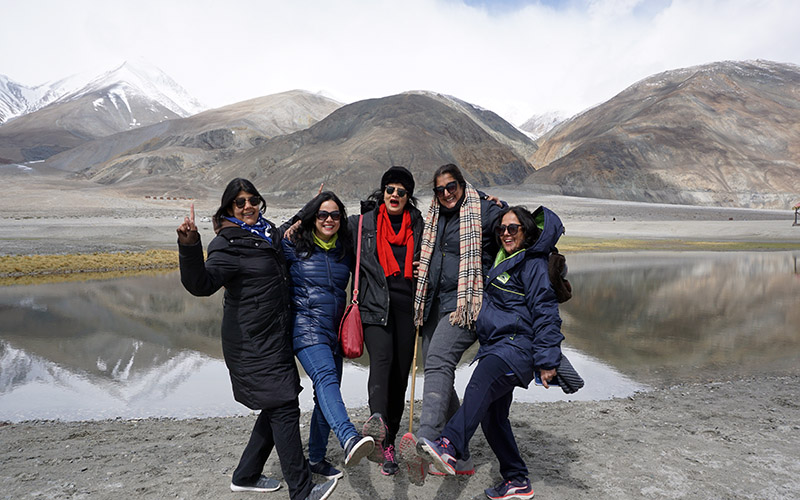 From an honest heart, the place Ladakh and the trip gave me,  my 'me' time. At present, I am at loss for words to describe my experience with Pack 'n' Fly. I was sceptical on the accountability of Pack 'n' Fly crew but 'Archana' the head of the trip made sure that everything goes well. I didn't just explore new places but also met new people and forged life-long friendships.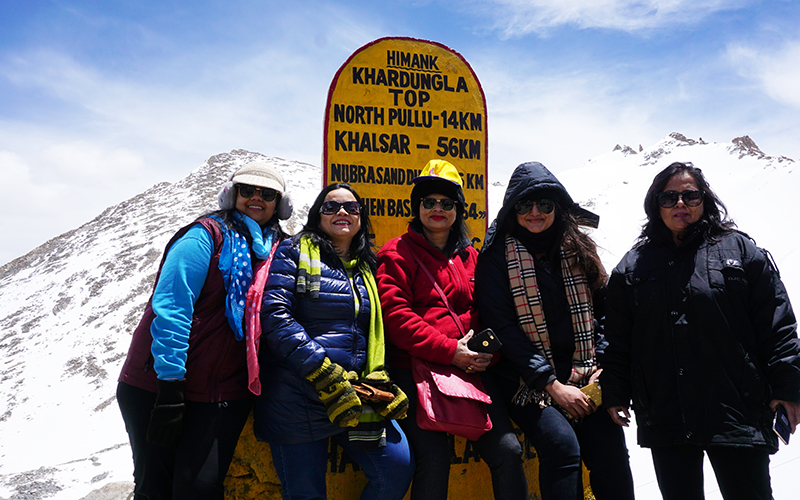 Today, I am not just carrying memories but also a  bunch of soul sisters and friends for life. All said and done, I am glad that I finally got my 'ME' time after so many years.
– Mrs. Ritu Singh
A Packer and Flyer  for  lifetime.