From Hrithik and Katrina to Ranbir and Deepika, Bollywood Loves Greece.
It has a thing for exotic locations and foreign shoots that enhances and makes a picture aesthetically beautiful. This gives us a brief idea of what the world has to offer, and what all places are actually travel-worthy. So, today let's have a look at some of the popular Bollywood movie scenes and where they were shot, so that we can all add these gorgeous places in our bucket lists!
1. Movie: Bang Bang
Location: Santorini, Greece
Probably one of the most iconic Greek islands to visit, Santorini has been catching the B-town's attention since the times when Madhubala and Nargis used to grace the silver screen.
It is loved for all those cave-like hotels; crumbly cliffs, gorgeous sunsets from Oia and not to forget, the cheeky monkeys.
2. Movie: Chalte Chalte
Location: Church of Panagia Paraportiani, Mykonos
The divine church of Panagia Paraportiani is one of the most picturesque churches not only in Mykonos but in the whole world. Having said that, the utter SRK romance was shot starting with a view of the Church, followed by the famous Mykonos windmills and pristine blue beaches.
Shahrukh Khan Fans, Alert!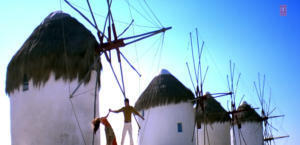 3. Movie: Wanted
Location: Santorini
Naoussa Port, Paros, Greece

Here we are again, talking about Santorini. Obviously, one can never get enough words to describe the beauty of this place.
The name itself makes you wonder. You can imagine the gorgeous blue and white villages with the crystal clear Aegean sea abreast while smelling the scents of fresh and creamy Chlorotyri. So let's get this straight: Santorini is in fact gorgeous. In fact, those images on Instagram don't do justice to how beautiful the place actually looks like.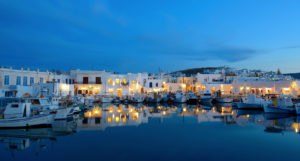 4. Movie: Tashan
Location: Sarakiniko Beach, Milos
Ever wondered how drenching on a moon-like beach feels like? Milos gives you a similar experience. It is a quiet island, far from the crowd and full of treasures. And that's the reason why the more popular islands mentioned above are still jealous of it.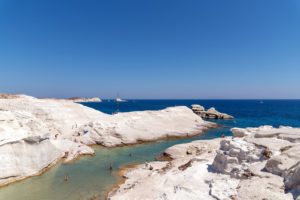 Do you also have a knack for these picturesque and wonderland-like locations just like the B-town? Let us know in the comment section below and join us to explore them in our upcoming gateway to Greece.