Ever wondered what would it be like to explore that exotic location where Anushka dived to complete her dare in 'Jab Tak Hain Jaan' and Kareena confessed her love for Amir in 3 idiots? Didn't watching those scenes make you pack your bags while giving you major traveling goals?
If you haven't done any of it by now, summer vacations are not too far. So just take a break from your hectic schedules as we tell you what it's really like to have the time of your life at this magnificent destination.
Pangong Tso is situated at the height of 4,250 meters, far away in a barren land of Ladakh, and is one of the largest brackish lakes in Asia. The crystal clear blue lake sprawls over an area of 100 kilometers across the borders of two countries in India and China. It is one of the charismatic lakes situated on the Changtang plateau in eastern Ladakh region.
Most people usually prefer taking the Leh to Pangong Tso route. This route will take around 6 hours depending on how many breaks you decide to take on your way. This is the route that you will follow:
Leh to Karu- to Sakti- To Chang La- to Durbuk- to – Tagnste- to – Lukung-to- Spangmik-to- Pangong Lake.
This road trip would be nothing but mesmerizing as you'll get the explorer out, which has been hidden inside and while you're at it, don't forget to take a few halts and look at those amazing monasteries, villages, and streams which will come in your way because it's not about the destination, it's about the journey!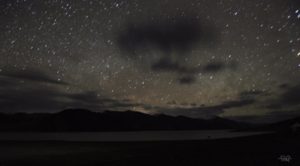 If you truly want to experience the best which Pangong has to offer, do not stay in a hotel (not that you are going to find many in that area) but choose a camp over hotels and we promise you that you'll have a hell of an experience while dancing around the campfires, stargazing and experience some traditions of the locals while having an experience of self-enrichment, because that's exactly what we call a break from the monotony!
Pangong Lake has very limited options for one to eat out. Hence on journeys like these, it is always advisable to go the Indian way, i.e., stock up your food my friend! Carry a lot of semi-cooked food as per the duration of your stay. But if you really want to experience what true Tibetan food tastes like, you can visit the locals as they're extremely welcoming and would love to shower you with home cooked, delicious Tibetan food, prepared with nothing but love! But if you want a trip which has all of it and at the same time is pocket-friendly, you know whom to call.
PacknFly has been successfully conduction All Women Group Tours for all independent solo women travelers looking out for a company. Are you one of them? Why not join us on our next trip to Ladakh this May. For more details click here or Whatsapp us at 9811191780
Happy traveling!